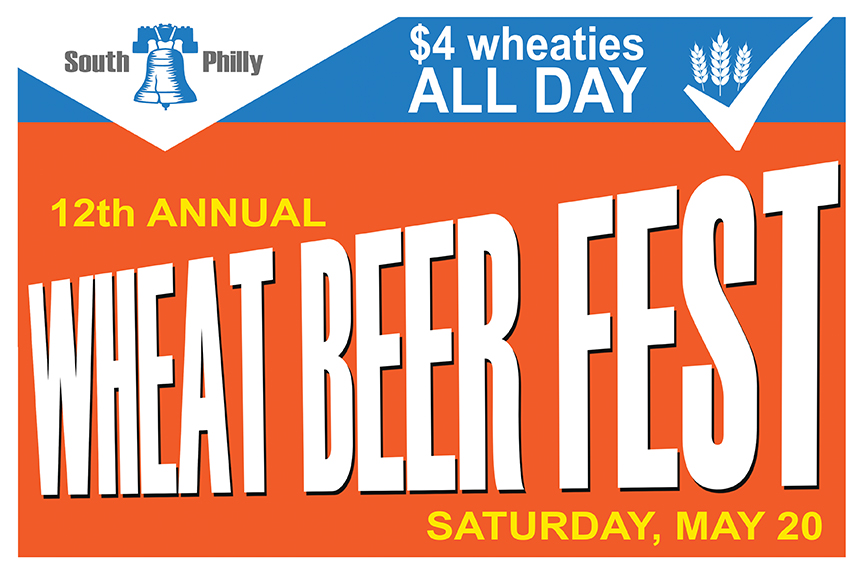 Sat, May 20th
Wheat Beer Fest
1509 Mifflin St
12pm-7pm
[EVENT PHOTOS]
Saturday, May 20th! The 12th annual South Philadelphia Tap Room Wheat Beer Fest returns to its long time home at Mifflin & Hicks St. This block party is always our favorite event of the year: $4 wheat beers all day long from top ranking breweries near & far, live music from 12pm-7pm, snackable BBQ & sausages in the street- what's not to like?
Over 30+ drafts will bring you a sparkling array of witbier goodness to choose from- we'll have a bunch of other styles too: super fresh IPAs, cool sours, pilsners, ciders… & much much more.
Outside street snacks include BBQ chicken wings with potato salad from the SPTR crew, hot Italian sausages & vegan sausages from our pals at American Sardine Bar.
A fantastic lineup of musicians will be performing throughout the day – enjoy the soulful psychedelica of St. James & The Apostles, classic mummery from Quaker City String Band, Blayer Point-du-Jour & The Rockers Galore, a solo set from Arrah Fisher (of indie pop darlings Arrah & The Ferns), blistering garage (basement?) punk from South Philly's Los Gueys, and the sunny harmonies of Groovy Movies.
SPTR will open at 11am that Saturday as usual- so feel free to swing by for a bite or to hang out as the festivities get under way. Hope to see you on the 20th!
WBF 2017 Draft List

Outside:
Unibroue Blanch De Chambly
Nodding Head Berliner Weiss
Weihenstephaner Hefeweizen 
St. Benjamin Wit or Wit Out 
Naked Black Currant Rising Wheat
Neshaminy Creek Hefeweizen
Levante Cloudy & Cumbersome IPA 
Commonwealth Ciders Gregarious Ginger
Peak Organic Happy Hour Pils
Sterling Pig Snuffler IPA 
Inside:
NITRO: Ship Bottom Porter
Hubbard's Cave Vanilla Stout
Stickman/Levante Sensational Weather
Propolis Nootka Rose Saison
CASK: Cotrell Mystic Bridge (Angry Dolphin) IPA
… with many delightful backups as well
All outside beers are $4/12oz & purchased via tickets
All inside beers sized/priced individually, no tickets, cash or credit only